SFU HIV/AIDS Day "Grassroots to Global"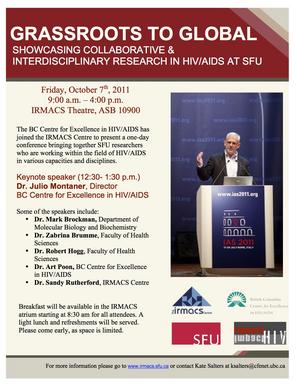 Showcasing Collaborative & Interdisciplinary research in HIV/AIDS at SFU on October 7th. We have teamed up with the BC Centre for Excellence in HIV/AIDS to present a one day conference bringing together SFU researchers who are working within the field of HIV/AIDS in various capacities and disciplines.
The morning session will commence at 9:00 am with Opening Remarks followed by various speakers discussing Community, National and International Collaborative Research.
The keynote lecture will be at 12:30 and will be introduced by Faculty of Health Sciences Dean, Dr. John O'Neil.
Keynote Speaker, Dr. Julio Montaner, Director, BC Centre for Excellence in HIV/AIDS will speak on the "Treatment as Prevention - a unique opportunity to control the HIV/AIDS pandemic within a generation".
The afternoon session from 2:00 - 4:00 pm will focus on Interdisciplinary Research with 5 more speakers sharing their work and results around the HIV/AIDS topic.
Presentation Schedule
Friday, October 7, 2011

Time
Details

9:00 am

-

9:30 am

Opening Remarks

Friday, October 7, 2011

IRMACS Welcome (Veselin Jungic)
BC-CfE Welcome and Goals for the day (Robert Hogg)
IRMACS / BCCfE Collaboration: IMPACT-HIV (Krisztina Vasarhelyi)

Abstract will be published when made available.


Click to watch (Duration: 14:32)

9:30 am

-

9:50 am

"It only takes a tiny spark to start a prairie fire" -- Insights into the HIV epidemic in Western Canada

Friday, October 7, 2011

Dr. Robert Hogg (FHS / BC-CfE)

Abstract will be published when made available.


Click to watch (Duration: 30:23)

9:50 am

-

10:10 am

Building capacity for HIV research in Africa through South-South collaboration

Friday, October 7, 2011

Dr. Mark Brockman (MBB)

Abstract will be published when made available.


Click to watch (Duration: 22:17)

10:10 am

-

10:30 am

Every Band Needs a Drummer: Interdisciplinary Research and Advocacy in Housing and Health

Friday, October 7, 2011

Ms. Surita Parashar (FHS, BC-CfE)

Abstract will be published when made available.


Click to watch (Duration: 19:00)

10:50 am

-

11:10 am

Exploring HIV Prevention among young people at risk for HIV in BC, Canada and Soweto, South Africa

Friday, October 7, 2011

Dr. Cari Miller (FHS)

Abstract will be published when made available.


Click to watch (Duration: 24:17)

11:10 am

-

11:30 am

Agents of Change: Communication/Education Against HIV/AIDS Stigma in Ghana

Friday, October 7, 2011

Dr. Martin Laba (Communications)

Abstract will be published when made available.


Click to watch (Duration: 27:07)

11:30 am

-

11:45 am

12:30 pm

-

1:30 pm

Treatment as Prevention - a unique opportunity to control the HIV/AIDS pandemic within a generation (Keynote)

Friday, October 7, 2011

Dr. Julio Montaner, Director, BC Centre for Excellence in HIV/AIDS

Abstract will be published when made available.


Click to watch (Duration: 1:13:58)

2:00 pm

-

2:20 pm

Network modelling and the HIV epidemic

Friday, October 7, 2011

Dr. Alexander Rutherford (Mathematics / IMPACT-HIV)

Abstract will be published when made available.


Click to watch (Duration: 23:33)

2:20 pm

-

2:40 pm

Modeling the Impact of Serosorting and Seroadaptation on the Spread of HIV

Friday, October 7, 2011

Ms. Sarah Kok (Mathematics / IMPACT-HIV)

Abstract will be published when made available.


Click to watch (Duration: 16:15)

2:40 pm

-

3:00 pm

Navigating the genetic variability of HIV with interdisciplinary tools

Friday, October 7, 2011

Dr. Art Poon (FHS / BCCfE)

Abstract will be published when made available.


Click to watch (Duration: 20:07)

3:05 pm

-

3:25 pm

HIV/AIDS Molecular Epidemiology Laboratory: an introduction

Friday, October 7, 2011

Dr. Zabrina Brumme (FHS / BCCfE)

Abstract will be published when made available.


Click to watch (Duration: 23:10)

3:25 pm

-

3:45 pm

The Neutralizing Antibody Response During HIV-1 Infection: Implications for Vaccines

Friday, October 7, 2011

Dr. Jamie Scott / Dr. Naveed Gulzar (FHS)

Abstract will be published when made available.


Click to watch (Duration: 25:02)

3:45 pm

-

3:55 pm

3:55 pm

-

4:00 pm